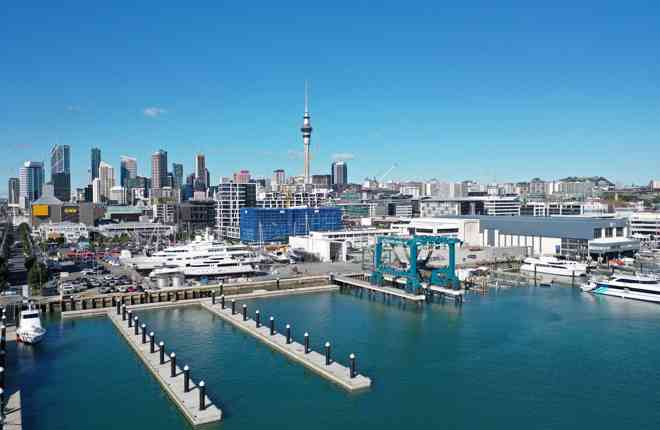 The ambitious Orams Marine development on Beaumont Street, which borders Westhaven Marina and Wynyard Quarter, has reached an impressive milestone with the completion of its first stage.
With the completion of stage one (of two), the new site has an additional 12,000sqm hardstand, a water treatment plant, three 90 metre marina fingers and an 85 tonne and 820 tonne travel lift. The new additions allow Orams Marine to triple its capacity and haul out up to 80% of the world's superyacht fleet.
The upgrade provides much needed maintenance facilities for a wide range of boats including ferries, fishing boats, and private and commercial vessels.
"This development is the result of numerous studies focused on adding sustainable value to the marine industry and Auckland's economy," says Orams Marine CEO Neven Barbour. "As the marine industry continues to grow, Orams Marine is in an advantageous position to cater to demand."
Eke Panuku is working with Orams Marine to build on Wynyard Quarter's maritime history and to create additional infrastructure that enables Auckland, and New Zealand, to take a leading role in the competitive international marine market.
"We've always been clear that special and focused effort would be made to preserve and strengthen over time, the marine business component of the waterfront," says David Rankin, Chief Executive of Eke Panuku. "These elements contribute to Auckland's distinctive and unique waterfront environment, adding to the strong historical and cultural character of the area."
Wynyard Quarter has a long maritime history, and the marine and fishing industries continue to play a part in the next chapter. This year marks 10 years into the redevelopment journey for Wynyard Quarter, and Orams Marine has been there every step of the way.
Next for Orams Marine is to build an 85-tonne work shed for their travel lift. This will enable work on boats to be completed under cover and protected from the elements. This will be followed by commercial buildings and a residential tower.