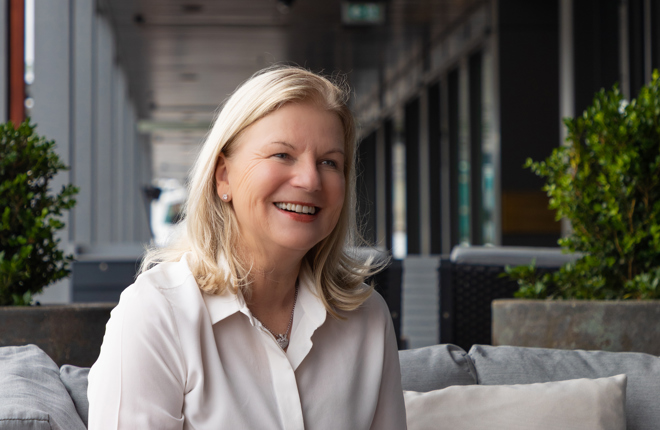 Joan Vujcich wouldn't want to live anywhere else. Her love of Wynyard Quarter is shared by her grandchildren whose visits are a regular highlight of her residency on Auckland's waterfront.
"The vibrancy of this area is what attracted me to the idea of living on the Wynyard Quarter. I love being down here. When I found an apartment that was just perfect for me, it was an easy decision to make."
Making the move from Remuera in 2019, Joan has been instrumental in creating a residents' community in Wynyard Quarter.
"I knew it was important for neighbours to meet each other, especially when living in apartments where a lot of people live on their own."
Neighbourhood walks create community connections and abundant marine life spotted from the path to Westhaven Marina provides a regular reminder of the natural wonders surrounding the area. Spotting the resident leopard seal, stingrays and dolphins are an attraction enjoyed by locals and their visitors. "My grandchildren love coming to visit me here," says the grandmother-of-16.
"It's such fun place to be for them, as much as it is for me!"
Joan joins early morning pilates classes at the nearby Park Hyatt hotel to kickstart her day then, along with fellow Wynyard Quarter residents, likes to head to La Petite Fourchette on Daldy Street for coffee.
"The sense of community is wonderful," she says. "We've got to know the local café staff, who know our coffee orders off-by-heart. It's those little things that make you feel you really belong."
Friday drinks in The Living Room, the Park Hyatt's lounge area overlooking the Viaduct Harbour, give nearby residents a chance to relax into the weekend with their neighbours.
"It's important for people to get together. I know how valuable it can be to get to know one another. Residents have found we've been able to help each other out in various ways, which wouldn't have happened if we hadn't found the time to connect in person."
Art-lover Joan delights in having the ASB Waterfront Theatre on her doorstep and enjoys the ease of travel afforded by her apartment-living lifestyle.
"I rarely use my car anymore. I can find my way to pretty much everything I need, on foot. I love ferrying to Waiheke, Tiritiri Matangi and Rangitoto islands for walks too. It really is a joy to have all this at my fingertips."