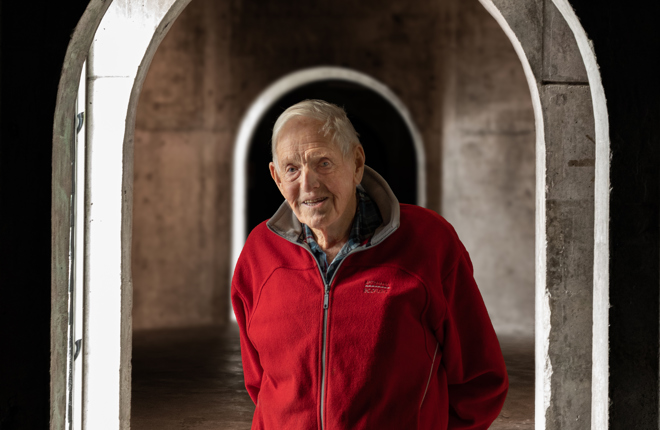 "I'd just got my driving licence, I remember, and I was driving down Quay Street when I was startled by this steam train coming passed me. It really took me by surprise, especially being a young driver in those days."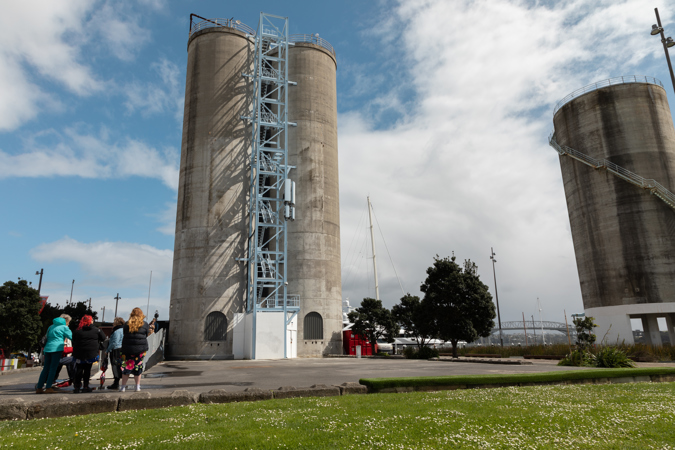 The concrete silos that stand as the area's namesake are the work of Ross Johnson. He led the team of structural engineers from A & G Price that erected them. That was in 1961.
Last month, Ross returned to the site, with three generations of his family by his side. He was accompanied by placemaking expert Frith Walker from Eke Panuku Development Auckland, the council agency tasked with revitalising the area.
"It's interesting just to sit and look at them again," says Ross, through watery eyes. The prevailing wind is perhaps largely responsible for what could also be seen as a physical display of emotion.
Mindful of getting his facts straight, Ross is an expert in his field who worked at the forefront of structural engineering in New Zealand in the 1960s and 70s. The attention to detail required in this profession remains at the forefront of his mind today, even if some of the finer memory detail occasionally does not.
In charge of supervising the site, overseeing the mechanical steelwork and preparing the structure for the concrete pour, Ross recalls the project through a long-forgotten lens. "There were two pipes that came off the ship that had come from Whangārei, as I recall. They poured the whole thing [silos] in one go – it was a first in New Zealand at the time," he says.
"I hadn't remembered that, but I do now," is his reaction on seeing the interior mechanical 'hopper' as he manoeuvres into the silo on his niftier-than-average-mobility scooter.
"All the mechanical steelwork – that's what we did. All the steelwork and mechanical installation. Downer did the concrete; we did the structural work.
"I can't remember, but there must have been a compressor. I do remember the cement came up on the belt of the air slide. It was the first time I'd ever heard of an air slide. The cement was a very fine powder, which was not good for your lungs."
Ross's lungs are holding up well, however. He has had three hip replacements and 'new knees', according to son, Andrew. "I have to tell him off for chopping wood at home. He'll still get out the chainsaw and see to the firewood. I have to keep an eye on him – there's no holding him back!"
Ross recalls somewhere in the region of 30-40 men working on the site of the six silos he was supervising. He'd completed an apprenticeship in general engineering after attending school in Howick then Auckland Grammar, before going on to work for A & G Price, a leading New Zealand heavy engineering firm, with a foundry based in Thames. The company has been manufacturing quality iron, steel and brass products since it was established in 1871.
"I was just ahead of the time when you needed to go to university to study engineering," Ross says. Learning on the tools, he felt, helped him gain a strong understanding of all aspects of the profession. "That practical experience was a great help. I was taken out of the estimating office and put on site. Being made a site supervisor gave me a substantial raise in income and status," he smiles.
He remembers the weighbridge at the site and the railway line used to ferry cement held in the silos to its intended destination. "The railway used to go all along from Quay Street, running east to west along the viaduct bridge," he says.
As he winds his way around the inner sanctum of Silo Six, he reflects on this period of his life and career. "I guess it was part of building not only the silos, but my experience in life. You never think, when you're doing the work that you are doing that, many years later, it'll be gone and that's part of you gone."
Except that Ross's work remains, in front of his still sharp, if watery, eyes.
"It's funny to think we would be up there," he points to the ceiling of the silo with a wide smile. "…climbing around the top of it. I was never really very good with heights, but you just had to get on and do it.
"There would be gaps you'd have to jump across – gaps that were wider than a stride. I found out that it is amazing how far you can jump if you have to!"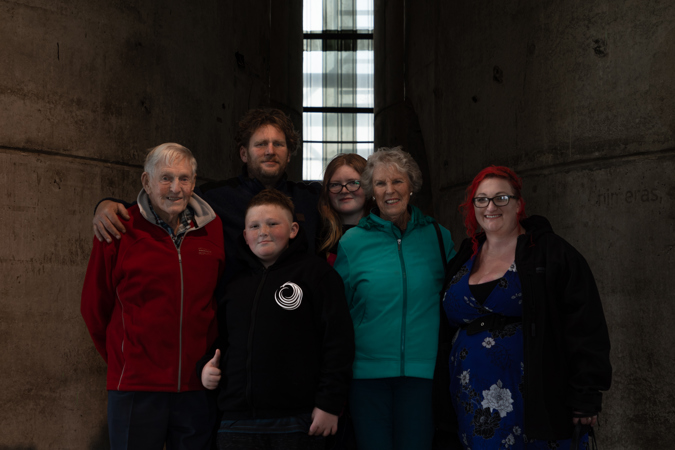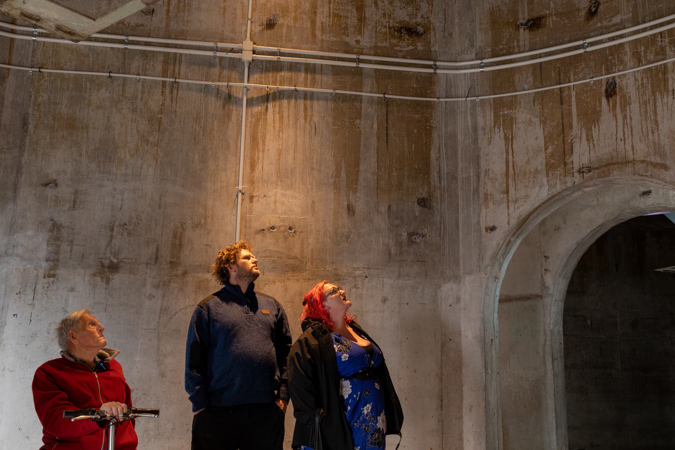 Ross worked for six months on this landmark project before being assigned to supervise another major silo build in Te Rapa, Hamilton in 1962. "I became a works manager of over 200 staff before I was 30," he shares with pride. "People used to tell me I was in charge of a lot of people for my age."
Timaru-born Ross has been married to Carole, a former Air New Zealand stewardess, for 51 years. The couple have lived across from the beach in Maraetai since 1947. Their son Andrew and his partner Kat live close by with the Johnson grandchildren; Imogen, 14 and 10-year-old Joshua. As they arrive at Silo Park, Carole straightens Ross's collar ahead of a photograph being taken with him in front of the silos, with the warm demeanour and immaculate appearance befitting her former profession
In the latter part of his career, Ross went on to work for Fletchers and as a management consultant for quality control systems, until his retirement in the late 1970s.
Now used for fire service practice – the stairs providing the perfect training ground – art exhibitions, community events, filming and much more, the silos were originally used as a holding bay for cement that had come off ships and was awaiting transportation around the country.
What does Ross make of the way the silos and the space around them is used now? "It's good for Auckland. It's good to see people down here playing in the park and enjoying the area… it really is good to see it.
"The area is providing a lot of service for a lot of people. We came down here to one of the summer events that was on, and it was so good to see the park and this whole area buzzing with life."
Work on the first stage of Silo Park was completed in 2011 as part of a 20-year Wynyard Quarter regeneration plan, focused on transforming the area into a thriving neighbourhood that is accessible and inviting for locals and visitors alike. Since then, Eke Panuku Development Auckland has expanded the area to include more people-friendly space, including seating, bike racks, more greenery and native plants, interactive features on the heritage tanks, and the 'Playline' bespoke interactive play equipment.
The latest phase of development will see the transformation of Wynyard Point, which is the northern tip of Wynyard Quarter. Planning is now underway between Eke Panuku, mana whenua and the design collective Toi Waihanga to transform half of this 10-hectare site into a waterfront park. The rest of the site will boast a mix of sustainable residential and commercial development to support the growing Wynyard Quarter community.
As for the silos, the steel staircases winding up the sides today prove none too inviting for Ross. "I don't fancy going up the top anymore," he says. "Not that I ever did! But we had to just get on and do it. Mind you," the 88-year-old adds. "I would if I had to.