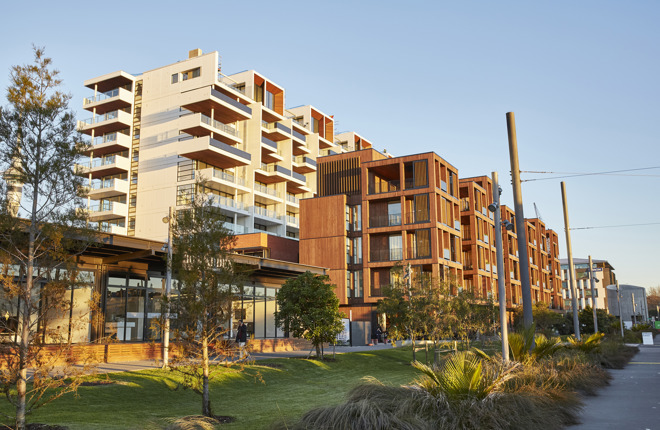 Willis Bond & Co.'s residential development – Wynyard Central – has set a new standard for sustainable living.
Wynyard Central is the first large-scale, multi-unit, residential development in New Zealand to achieve a Homestar design minimum of a 7-star rating for sustainability and energy efficiency. All homes in the development have been awarded a Homestar Built certification, with over 80% of the homes achieving an impressive 8-stars.
Designed to stand the test of time, Wynyard Central's sustainable and passive design principles have helped craft comfortable, safe and healthy homes for many generations to come, earning the development high praise on the Homestar scale.
"The vision for Wynyard Quarter is to create a lasting waterfront community." says Willis Bond Managing Director, Mark McGuinness.
"Willis Bond is committed to implementing considered and sustainable designs that sit harmoniously within their surroundings and benefit those who enjoy them today and those who will in the future."
Most existing New Zealand homes sitting at 2 - 3 out of 10 on the Homestar scale, with a 'typical' home built to current New Zealand Building Code requirements sitting at 3 - 4 out of 10, says Paula Koller, Development Manager Waterfront at Panuku.
"Eke Panuku is immensely proud of our partnership with Willis Bond and what we've been able to achieve with Wynyard Central," says Koller.
Going forward, Wynyard Central will play a pivotal role in the wider Wynyard Quarter 'Smart Precinct'. Using data gathered from smart energy, water metering and building management systems, the development will provide critical environmental feedback to Eke Panuku and their partners.
Passive design is a focus of Wynyard Central, with apartments requiring no artificial heating and cooling for 80 percent of the year and no artificial lighting in living spaces for 80 percent of annual daylight hours. 
Wynyard Central is an example of commitment to creating and enhancing communities, and a dedication to setting the tone for future New Zealand developments.
Other sustainability attributes of Wynyard Central include:
heat-recovery ventilation systems and efficient heat-pump heating

high standards of thermal performance, daylight and sound insulation

high level of acoustic privacy

95% LED lighting

smart metering for apartment energy and water

solar power ready for the future installation of a photovoltaic array

rainwater harvesting for selected homes and common uses

WELS-rated water fixtures and ENERGY STAR-qualified appliances

double insulated hot water cylinders

materials are low VOC, and certified by ECNZ or another approved eco-label

shared hybrid-powered car available for residents' use

bicycle parking for residents and visitors

low-speed, shared streets and laneways for walkability and cycling

low-impact design, rain gardens, stormwater treatment

resilient design and adaptation to climate change

renewal and rejuvenation of previously under-utilised land

70-90% of demolition and construction waste diverted from landfill

recycling/composting facilities

green roofs and linkages to public green space including linear park and Wynyard Common
About Homestar
Homestar is a way of showing how warm, healthy and sustainable kiwi homes are. It assesses a housing development against several different categories including health and comfort, energy, water, waste and materials. Having a home on the upper end of the scale presents a more sustainable, more energy-efficient home.
Homestar provides a clear framework for home sustainability and performance. It's comprehensive, independent, and creates homes that are healthier and more efficient than much of New Zealand's existing housing stock.